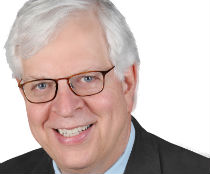 Conservatives are in a quandary.
The rise of Donald Trump has alarmed well-connected conservatives, from Jonah Goldberg to George Will, and even Prager himself.
Do they vote for the lesser of two evils, or just sit out an election with two unpalatable choices?
The arguments from Prager's admired conservative colleagues have not convinced him to sit out, but rather to vote for Trump.
By not voting, Hillary Clinton will win the presidency, and all the damage that will follow.
Here are his nine reasons why Prager will vote for Trump:
Prevent a left-wing Supreme Court, which will erode the Constitution to nothing
Increase defense spending
Repeal the community bank-killing regulations of Dodd-Frank
Prevent Washington DC from becoming a state, with its three all-but assured Democratic US Senators and House Rep
Repeal Obamacare—every word of it
Stop illegal immigration
Reduce the anti-business regulations killing economic growth
Lower the corporate tax to stop inversions
Continue fracking
Are you convinced to vote for Trump, or do you still say #Never? Email me at craig@electionforum.org.